It's always a heartbreaking experience when a pet goes missing, but it's even worse when they're stolen. We've seen too many stories of dogs being kidnapped by criminals looking to sell them for a profit.
But sometimes miracles happen, and stolen dogs end up safely back with their owners. That was the case recently, after a dog snatched from a truck reunited with the woman who spent weeks looking for her.
According to the Daily Star, Melina Georgiou, from north London, left her beloved one-year-old Maltipoo puppy Nala in the care of a dog walker last month.
But she was devastated when thieves broke into the dog walker's van and drove off, with Nala still inside, along with two other dogs.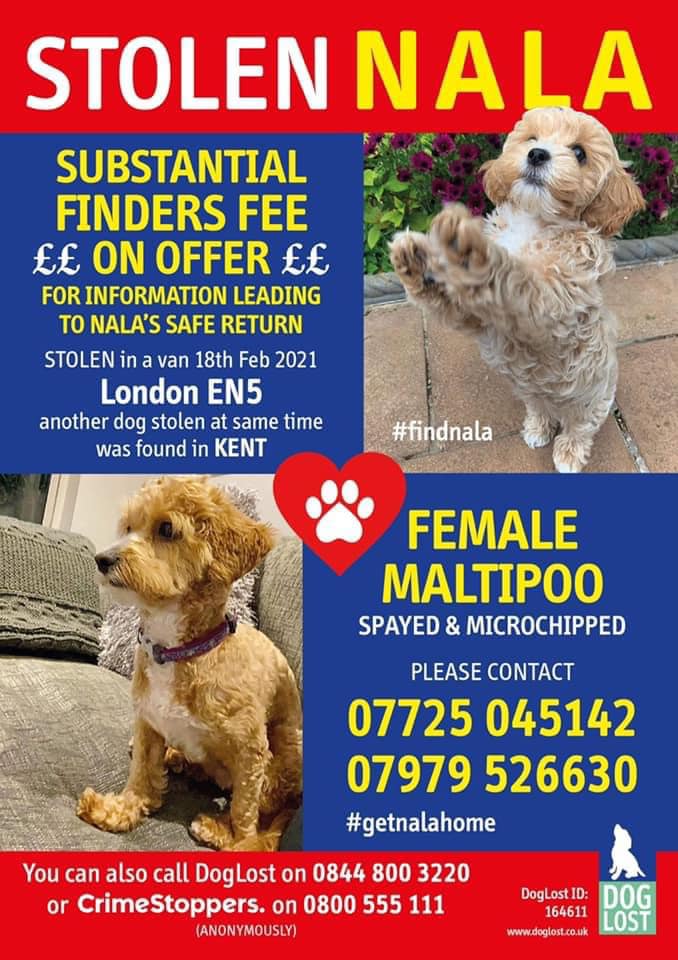 Melina was distraught, terrified that her pet was in the hands of dognappers who would likely try to sell her.
 "Nala is a massive part of my family and we are absolutely devastated that she has been stolen," Melina told MyLondon. "I haven't slept all night, I am so worried about her. I just can't believe that someone could rip her away from the safety of our family."
But she didn't give up hope. She began a search, spreading the word on social media, hoping someone would help.
And in an amazing show of community support, many people stepped up to help search and get the word out.
"It's been absolutely overwhelming," Melina told the Daily Star. "We've had over 11k shares on Facebook alone, hundreds and hundreds on Instagram and Twitter and floods of loving messages or support and kind words which has been so motivating to never give up hope that we'll find her."
"It's been a horrible day but everyone's local support has been a beautiful thing."
And after weeks of searching, Melina got the miracle she was waiting for: Nala returned home!
According to MyLondon, the stolen van was found last month, 40 miles away, after being abandoned by the thieves. While two dogs were recovered, Nala was still missing.
But the other day, Melina reported that Nala had returned home. While the exact circumstances of her return aren't clear, the dog was microchipped, and widespread exposure of the story made her "hot," meaning she was too recognizable to be resold.
What we do know for sure is that Nala is very happy to be home. Melina, "drained from the awful experience" but "overwhelmed with happiness," shared a touching video of her reuniting with her dog:
While this story has a happy ending, it's a reminder to be extra careful with your pets, as there has been an increase in dog theft recently.
"Whilst it is still a very rare crime, it's sadly something we have seen increasing recently," Deputy Chief Constable Amanda Blakeman of the National Police Chiefs' Council told the Daily Mail.
"During the coronavirus pandemic, criminals have adjusted their activities and are taking advantage of the big demand for pets over the lockdown period. The cost of a puppy has considerably increased over the past year making this a lucrative market for organised criminals to exploit."
Blakeman suggests dog owners should avoid posting about their new puppies on social media. And as always, it's a good idea to get your pets microchipped so you can be identified as the owner when they're found.
This must've been a scary experience, but we're so glad Nala is home safe and sound! Share this great news, and remember to keep an extra eye on your pets!
The post Dog who was stolen in dog walker's van reunites with her owner after weeks apart appeared first on Newsner English.